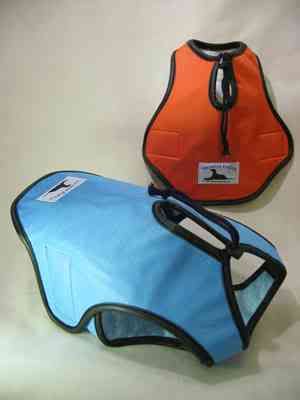 http://www.lucysdoghouse.net/dogapparel1-dogcoolingwear.html
Help your dog beat the heat.
Order now and let your dog stay a little cooler during the dog days of summer.
No potentially harmful chemicals, just water
These dog cooling vests will keep your dog's surface temperature down by up to 20 degrees and their internal temperature down by as much as three degrees.
Simply soaking the easy to wear Cool Vest ™ in water Provies a protective layer from direct and indirect sunlight and heat.
Its laminated lining keeps dogs dry!
The dog cooling vest is offered in 5 sizes and 2 colors.
Extra Small - 6-9" Neck, 9-15" Girth
Mini Dachshund - 7-11" Neck, 10-18" Girth
Small - 8-13" Neck, 12-23" Girth
Medium - 10-19" Neck, 19-31" Girth
Large - 13-23" Neck, 26-37" Girth
How does it work?
Made with a special fabric that absorbs and retains water. No toxic chemicals, or materials. Cooling through evaporation! Like a wet T-Shirt. Liner is laminated so dogs don't get wet. Special fabric doesn't dry out as quickly. Perfect for puppies to senior dogs. Covers vital organs